Wood-Mounted Rubber Stamps
The anatomy of a wood-mounted rubber stamp:

To create a wood-mounted rubber stamp, we:
Laser-engrave the rubber at 1000 dpi
Cut foam cushion to adhere to the exact proportions of the rubber die
Laser engrave the top of the wood mount
A shot of the laser engraver in action!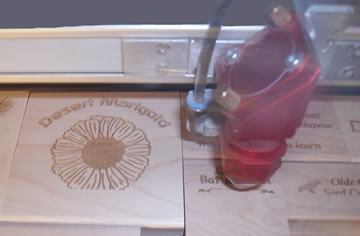 We purchase our laser engravers from Trotec®. They rock!
A finished wood mount: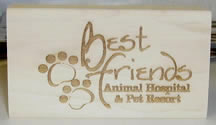 Note: Because we use a natural, maple wood, the hue of wood mounts may vary slightly from order to order.
Recommendations:
– Use your custom rubber stamp on a flat surface
– For graphics, upload an image that is black and white (not grayscale or color)
– Use a nonalcohol-based ink (alcohol-based inks will deteriorate rubber)